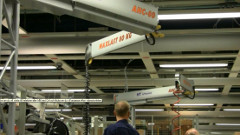 AirHandle e-p AB
Lift with your fingertips
Welcome!

AirHandle is an compressed air driven lift with an electronic control system.
Patented handle and control system for uniqe lift properties.
We looking for new distributors!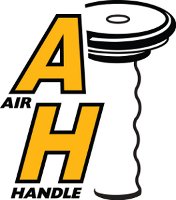 Lift system designed for the manufacturing industry. The product range consists of several different lift systems for easy and safe handling. The lift systems have built in functionality that helps the operator to always lift safely and easy. The gripper or tool will be custom adapted to the goods that is to be handled. AirHandle provides unique solutions for every need.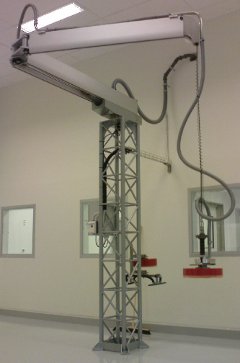 We are looking for distributors.
Do you think that AirHandle lift system could be an important complement to your existing product range? Do not hesitate to contact us for further discussions..
Contact us for more info.
A hoist that follows your hand movements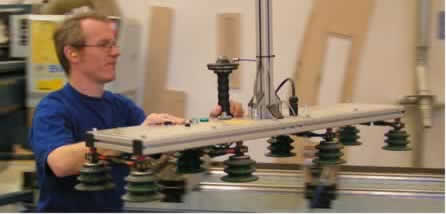 With the unique patented handle and electrical control system we have developed one of the most easy to use and safest lift equipment on the market today
AirHandle is a compressed air driven lift system for maximum loads up to 80 kg. It is made with both function and safety as its cornerstones, making it quick and easy to use. You can have full control of all the handling movements in your production with the goods following all of your hands movements.
Product advantages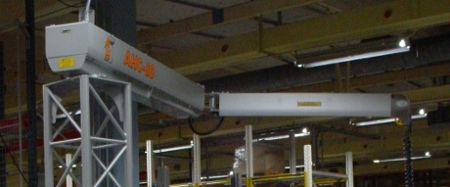 Jib crane with 3 m articulated arm that can rotate full 360░ circle without limitations. The total working area with a diameter of 6 m.
Compressed air driven lift wire gives smooth and responsive handling.
Few moving parts and simple efficient design provide high reliability.
Quick and easy handling with the patented AirHandle. Fast reaction or smooth and with precision, both are always available when needed. The lift follows all of the operators hand movements, from firm grip to simple touch
When not holding the handle, the lift system is automatically and seamlessly adjusting the balance and weight to handle the goods. You can then hold onto the handled goods itself and move it up and down completely weightless. Two hands are better than one to handle goods that need to be fitted with precision.
Standardized mounting brackets for easy switching between different tools and makes it easy to attach various grippers and tools to the handle.
All models are equipped with safety belts and with the electrical control system the safety functions prevent the grippers to release when goods are being lifted in mid-air.
The AHR models can easily be mounted in existing overhead cranes or rail systems.