AirHandle e-p AB
Lift with your fingertips
Control system
Patented handle and control system for the unique lift features.
Simplicity for the user, and with built-in security features.
Adjustable for future changes to the handling or gripper.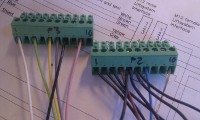 For those who construct their own tools, here are examples of settings that can be adjusted..

Security
Max load: Adjusted to correspond to gripper payload. Stops the lift at heavier loads..
Gripper weight: Controlling that releasing of goods cannot be done in mid-air.
"GripOk"-signal: Control to stop improperly gripped products from being lifted.

Functions
Balancing: Choose if you want the lift to be able to work in a counterbalanced lifting mode. Lifting can be done without the handle by moving the goods itself.
Handle: Adjust sensitivity, deadband and amplification of the AirHandle signal.
Pulse lenght: On the gripper valves, such as time for free blowing the filters.
Push button function: Normal grip/release or hover/grip/release.
Detailed information about all features and settings available in our
reference manual
.
Contact us for more info.
All functions are included from the start
All lift functions and grippers are controlled by the electrical control system. Through this board a number of parameters can be adjusted to fit current grippers and lifting situations. This means that a AirHandle lift already in its basic design have all the safety and functions needed for quick installment and safe, easy handling

With the board being programmable it is therefore entirely possible to change the lift without rewiring or adding components for proper function and safety. If the lift was originally purchased for use with a simple lifting hook it can in the future be equipped with a totally different tool like an advanced vacuum gripper. A few moments of adjusting the parameters on the control board is all that is needed.
The handle

The handle itself is connected to the lift wire, air hose and signal cable. Beside the handle is the 2 LED-indicator push button for gripping function mounted. In an enclosure, the gripper valves, air in- and outputs for "GripOk" -sensors is placed. Under the handle is the tool easily attached. All control functions for the gripper is included in an AirHandle lift.

Valve properties for gripper::
3/2 single-acting - Vacuum tools with ejector and suction cups or other single-acting components, i.e. different grippers, pneumatic cylinders with spring return.
3/2 with blow-off - Vacuum tools with ejector and suction cups. Can be used when the ejector have internal check valve or when reverse free blowing of filters is required.
5/2 double-acting - Clamping and gripping tools with double acting cylinders.