AirHandle e-p AB
Lift with your fingertips
Products

AHC - Jib crane with 3 m articulated arm that can rotate full 360░ circle without limitations

AHR / AHS - Lift to be used in new or existing overhead crane system or jib cranes.
Can it be easier?
Grip the handle and the gripper follows your hand movements up and down in the desired speed. Do you want to hold directly on handled product it will also work fine. The weight in the lift system will be balanced automatically when the handle not in use. Can it be easier?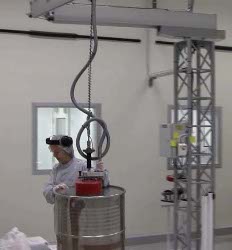 Contact us for more info.
Products
AirHandle lifts are available in two different models. Either as a complete jib crane (AHC) or as a hoist unit (AHR) for mounting in a overhead crane or rail system. AirHandle model AHC can handle loads up to 80 kg. AirHandle model AHR can handle loads up to 60 kg. Different grippers and tools can easily be attached to the lifting system. From a simple hook to more advanced vacuum grippers with non return valves and free blowing functions. The electrical control system has built-in functions for easy and safe goods handling.
Function
In the upper part of the handle is a membrane assembled into which an air hose is connected. On the electrical control board is this air hose connected to a sensor that reacts on any changes in pressure from the handle. By electronic controlled outputs, air from valves will move the lift and this provide a proportional stroke in relation to the hand motion used. This patented handle and electrical control system represents a unique, simple and reliable control of the lift. So you can use the lift continuously for fast movement or slow with fine precision when it is needed. Everything with a slight movement of your fingertips. When the handle is not used, its weight is counterbalanced and can easily be moved up and down by grabbing the goods. The handle has connections for several different grippers and a built-in safety system that prevents any goods to be released improperly or in the middle of a lifting movement.
In the inner part of the jib crane is a compressed air driven cylinder mounted and connected to a lifting wire that runs through the articulated arm and down to the handle and tool. The 3 m long arm are made of aluminum and can be rotated 360░ which provides a range of up to 6 m in diameter. The lift is powered by 6 bar compressed air and has connections for electricity to the control board.